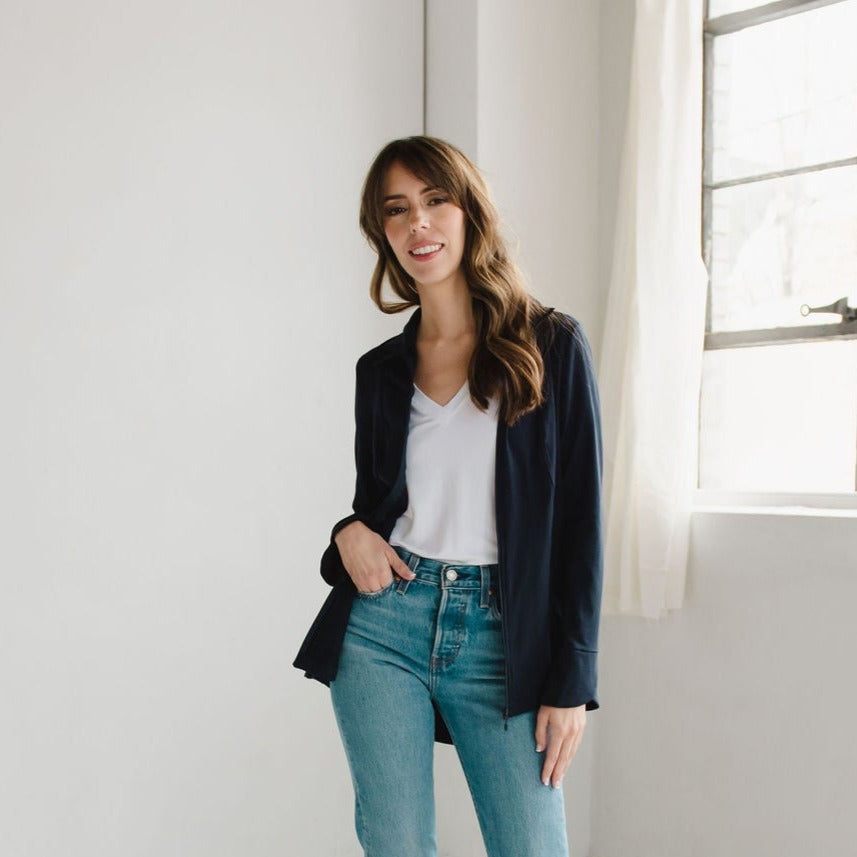 The Effortless V-Neck T-Shirt
Item is in stock
Only a few left
Item is out of stock
Item is unavailable
Free shipping on orders $225+
Description

A basic made for more - more wears, more styling options and more comfort. Formerly known as The Nomadic V-Neck, this popular style is back with an updated fit. Made from buttery soft, drapey and opaque Bamboo-blend fabric and featuring a flattering, relaxed fit, this classic t-shirt elevates any outfit. Ethically-made in Toronto, every stitch and seam is carefully considered to create a high quality tee that will be a staple in your wardrobe for years to come.
Details
Fit
Fabric
Complete the look
Keep building your capsule wardrobe
Encircled is a Certified B Corporation®
Ethically-made in Toronto, Canada
OEKO-TEX® STANDARD 100 fabrics
The Effortless V-Neck T-Shirt
Shipping & Returns

Free Shipping on Orders $225+

Encircled ensures your orders reach you on time with various shipping options. We offer free shipping over $225 to Canada and the USA.

For faster delivery or detailed tracking, select an upgraded option at checkout. We typically dispatch within 48 hours, but delays can occur during busy periods. Expedited orders ship the same day. Thanks for choosing Encircled!

Easy 30 day Returns

We understand that sometimes things don't quite work out. That's why we offer a full refund or exchange on new, unworn merchandise provided that we are notified within 30 days of receipt of the product except for final sale/markdown items which are non-returnable.

If within US/Canada, we offer flat rate pre-paid shipping labels that you can print and apply to your return packages.
The best!!
Super comfortable, dress up or down, sooo versatile. Love these tshirts.
I dream of the day...
Where fabric will not show sweat. I wore an undershirt to prevent armpit sweat to show, not realizing that the T.O. heat wave would have me walking around looking like this 😆. Idea for Encircled: armpit pads like Numi's undershirts so we don't have to wear two layers in ridiculously hot weather... they are from Toronto as well... hint hint 😏
Excellent quality and value
I purchased an XL v-neck and find it is excellent in fit and finish. It looks polished and the neckline is professional and flattering on me - not too deep. Sleeve length is also professional. Not too tight of a fit, good length of tucking in or having over a skirt or leggings.
Love this shirt!
Great for everyday wear. Fits true to size
Worth the cost!
I have 2 effortless v necks that I have worn for over 4 years. They have just started to show wear and a little pilling under the arm hole. I think this cut is slightly more fitted than my originals, but still love them. These shirts do fit my petite (5' tall) frame long. The shirt covers my bum, but in leggings I don't mind. Just difficult to tuck in....
About Encircled

Certified B Corporation

We prioritize people and the planet over profit. Being a Certified B Corporation, we are one of the few apparel brands to achieve this in Canada.

Woman-owned, Women-operated

Proudly a woman-owned and operated business, based in Toronto, Canada. Encircled was created by Kristi Soomer in 2012.

Responsibly made in Canada

We work with local production partners in Canada. Many of which are family owned for generations to create each Encircled garment.
High quality, made locally
Effortless style, quality, comfort, ethics and (genuine) sustainability — we compromise nothing, so you don't have to either. Proudly one of a handful of Women-owned certified B Corporations that's made in Canada.
Easy, Stress-Free Returns
Not that you'll be returning these. Trust us. But if you do happen to get the wrong size, it's no biggie. Send back your items within 30 days to receive an exchange or refund, hassle free.
Confused about fit?
Message us at contact@encircled.ca and we will be happy to help you