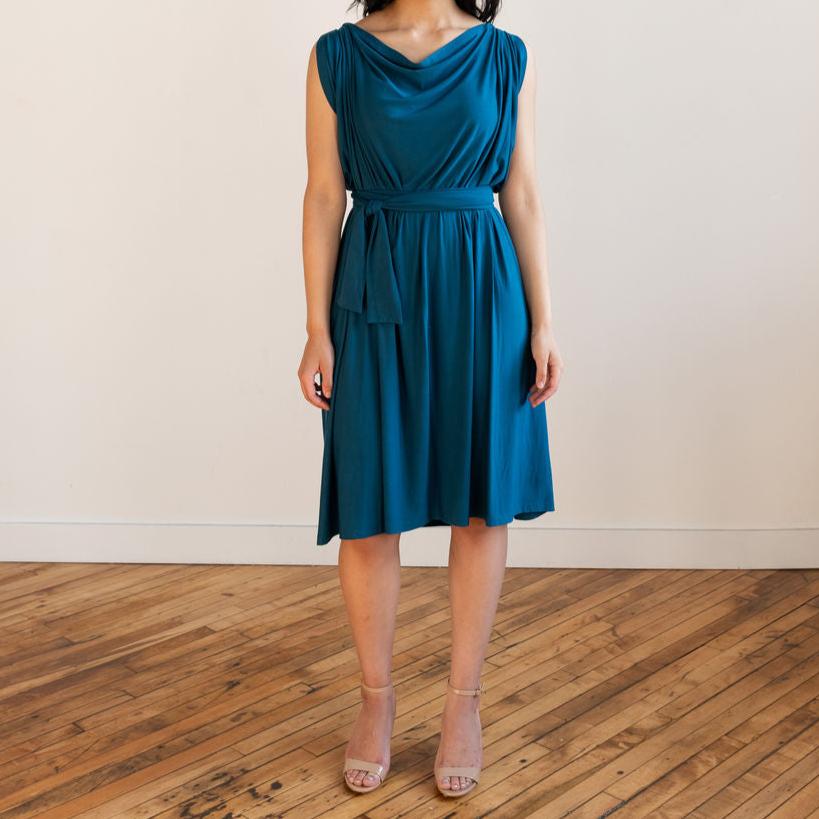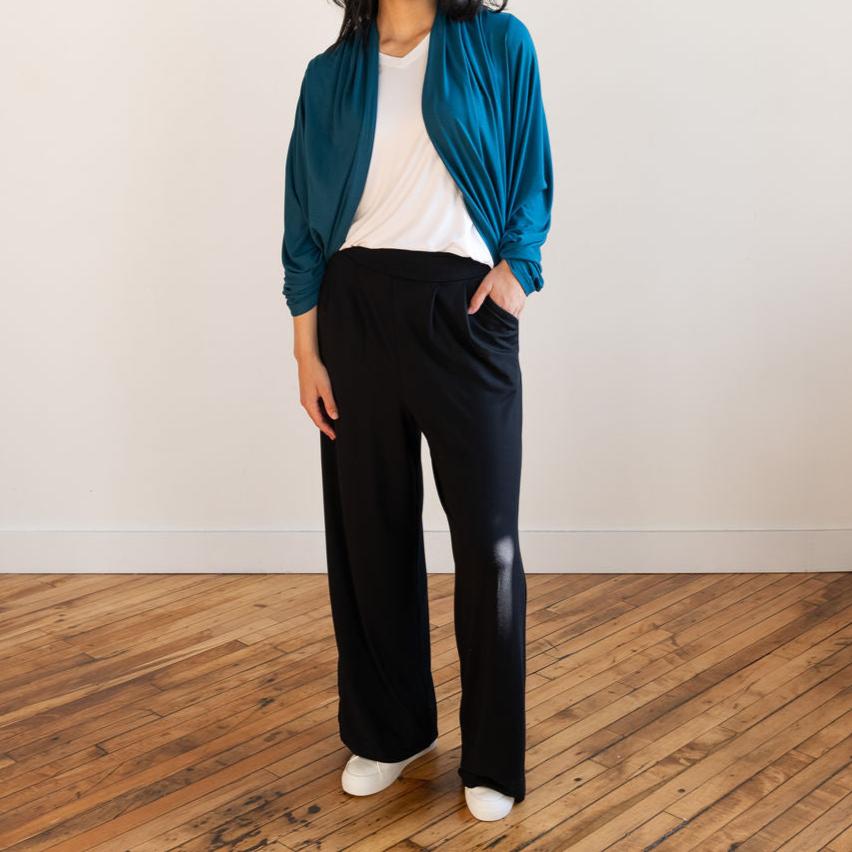 Item is in stock
ONLY A FEW LEFT
Item is out of stock
Item is unavailable
Great quality and versatile piece!
"...Highly recommend. Customize to suit your personality, or occasion. Dress up, dress down. Beautiful fabric."
- Sull
Description

From the boardroom to the beach to brunch, our Chrysalis Cardi can take you there. With 8 completely different styling options, this sustainable staple will help you refine your wardrobe without refining your options. Check our fit recommendation to choose the right size.
Details
Fit
Fabric and Care
Ethically-made in Toronto, Canada
Encircled is a certified B Corporation®
---
Free shipping on orders $225+
Have questions?
Get in touch with us at any time.
the
8 ways to wear

the chrysalis cardi

The ultimate convertible travel dress, cardigan, scarf and more.
Love these for travel
I love how versatile this dress is. Also, it's the only dress that comes in petite. I tried other encircled dresses and none work if your petite. Would love to see more dress in petite sizing, I and others have asked for years, still nothing except the chrysalis cardi. I also love how more colors came out for this item. Would love to see this in the color Scarlet Red.
Customer Service
I am so impressed with the customer service. My first delivery was lost, after not receiving, they quickly answered my emails and sent a new shipment. It was a pleasure dealing with them. So far I am loving the material of the Chrysalis cardi. I am locking forward to use it different ways at home and when I travel.
Fabulous Christmas gift!
Love this! I have enjoyed my grey medium one for years, but this maxi is even better and I love the cinnamon colour!
Absolutely in love
I purchased mine in the jewel tones teal colour a few years ago. I have been traveling (tent and car camping) across the US from Canada. This is the most versatile, odour free, flattering, soft, impeccably styled item I've ever owned.
I have taken it from a professional industry conference (worn as a scarf, cocoon cardigan, Grecian tunic) to a night on the town (wrap dress) and cuddled in it on cold fall mountain nights (cape).
It has gone from SD, to WY, UT, CO, NM, TX to TN (because I've still got a ways to go to get home to Niagara falls).
In hot areas it is a sweat wicking, cool to the touch. In cold it's cozy.
It's the only thing you need for travel and every day.
Good concept, Really bad quality
I bought this but when trying the different ways to wear it the snaps broke. I have been trying to return the order and customer service has not sent me the return label yet. It is getting frustrating. I order multiple items with the hope that if I did not like, I could return it. Still waiting for the return label..
About Encircled

Certified B Corporation

We prioritize people and the planet over profit. Being a Certified B Corporation, we are one of the few apparel brands to achieve this in Canada.

Woman-owned

Proudly a woman-owned and operated business, based in Toronto, Canada. Encircled was created by Kristi Soomer in 2012.

Responsibly Made in Canada

We work with local production partners in Canada. Many of which are family owned for generations to create each Encircled garment.
BE A #TRAVELMAVEN
AS SEEN IN
I consistently rave about the fabric that Encircled uses for its products, and The Dressy Sweats are no exception. Honestly…I could LIVE in these pants...
Jessica / TheBelleVoyage.com
The fabric is so soft. I'm not exaggerating when I say that these are the most comfortable pants I've ever worn.
Nicole / OhMother.ca
These really are the perfect go-to pants to dress up or down.
Jill / SuttonAndGrove.com
The Chrysalis Cardi FAQs
What size should I choose?

We recommend sticking with your typical pant size, and if in doubt, check out size chart. If you're in between sizes or prefer a more fitted look, size down.
What does the fabric feel like?

The modal fabric is super soft, drapey and stretchy. It feels like a worn-in t-shirt but dressy! We use a certified blend of Modal that's sustainable sourced and free of harmful chemicals.
Why is The Chrysalis Cardi so expensive?

At Encircled, we believe in investing in quality over quantity in your wardrobe. The Unblazer is just that. The fabric is sustainably-sourced, and made from premium materials. The Unblazer is also incredibly well-made by fairly paid sewing teams who are local to Encircled and features locally-sourced buttons, notions and zippers. We're proudly 100% made in Toronto, Canada. Lastly, the Unblazer is timeless so they'll last for years to come in your capsule wardrobe. If you think of your average cost per wear, the Unblazer will seem like a steal.
How long is The Chrysalis Cardi

Check out the size chart! Generally, it will hit at the knee length for all dress options.
How do I care for my Chrysalis Cardi

We recommend gentle wash, cold water with an eco-friendly, mild and fragrance-free detergent. Hang to dry. If they wrinkle, we recommend using a steamer, or an iron between a towel. If possible, put the Cardi in a lingerie or wash bag and undo snaps before washing.
How can I figure out how to wear all the looks?

The Chrysalis Cardi comes with an instruction booklet. We also have detailed videos on how to do each look here.
how to do

the chrysalis cardi looks step-by-step

HOW TO WEAR VIDEOS
High-quality, made-locally
Effortless style, quality, comfort, ethics and (genuine) sustainability — we compromise nothing, so you don't have to either. Proudly one of a handful of Women-owned certified B Corporations that's made in Canada.
Easy, Stress-Free Returns
Not that you'll be returning these. Trust us. But if you do happen to get the wrong size, it's no biggie. Send back your items within 30 days to receive an exchange or refund, hassle free.
Confused about fit?
Message us at contact@encircled.ca and we will be happy to help you