the
workleisure

revolution

Our Philosophy & Founder Story
FOUNDER HISTORY
" Encircled was created to be the brand I couldn't find. "
I wanted beautiful, long lasting and versatile clothes made without compromise. Sustainability and inclusiveness had to be behind every stitch without sacrificing luxurious hand feel or details. Essentially, I sought clothes that worked as hard as I did.
Working 80-hour weeks as a strategy consultant, it was an endless struggle to find stylish, comfortable clothing adaptable enough for weekly flights, meetings, socializing and (finally!) relaxing. It took my suitcase breaking while filling it for a much needed holiday to realize I'd been over packing. Forced to edit my wardrobe to fit a much smaller bag, I dreamt up a multi-way design that would reduce my packed items eightfold. This ultimately became our first piece, the now bestselling Chrysalis Cardi,

Since launching Encircled in 2012, I remain proud of my commitment to creating clothes that look, feel and do good. Ethically made from the finest, most soft and flattering eco-friendly fabrics, our collection is designed with intention, flexibility and exceptional fit at its heart. At last, form and function come together without compromise. I hope our clothing positively transforms how you dress and helps rebuild your wardrobe too, one beautifully versatile piece at a time.
Kristi Soomer
Encircled Founder & CEO
ABOUT US
versatile

and

trendless

workleisure made from incredibly comfortable and sustainable fabrics.

Encircled is a Canadian-made workleisure clothing brand located in Toronto, Ontario creating versatile, timeless designs in incredibly comfortable, and sustainable fabrics. We design with intention, partnering with carefully chosen local makers equally committed to our high standards. We believe beautiful clothes can't come from veiled processes, so transparency and ethical choices are woven into every thread of our supply chain. Each design is easy to wear and care for, with silhouettes that transition from casual to more formal, day to night and across seasons. Soft fabrics, adaptable styles and clever touches to help customize fit, mean you'll look and feel your absolute best, all day, every day.
made to last in a good way
Build your wardrobe and a better planet, one beautifully eco-friendly piece at a time. Synthetics such as polyester and nylon release microplastics into waterways every time they're washed, and once discarded, clog landfills, taking up to 200 years to decompose. Even conventional cotton farming and production is harmful, causing wide-ranging environmental damage. By contrast, we select only natural and toxin-free materials for our clothes. They are timeless, long lasting and versatile; forever pieces for all the right reasons.
certified B Corp
We believe that business can be a force for good in the world, so we focus on a triple bottom line of purpose, people and profit. Encircled is one of the few female founded, locally made apparel brands to meet this rigorous standard for social and environmental responsibility.
Canadian Made
We think globally and act locally, with factories just an hour's bike ride from our Encircled offices in Toronto, Canada. We proudly knit a portion of our fabric locally at one of the last remaining dye houses in our province.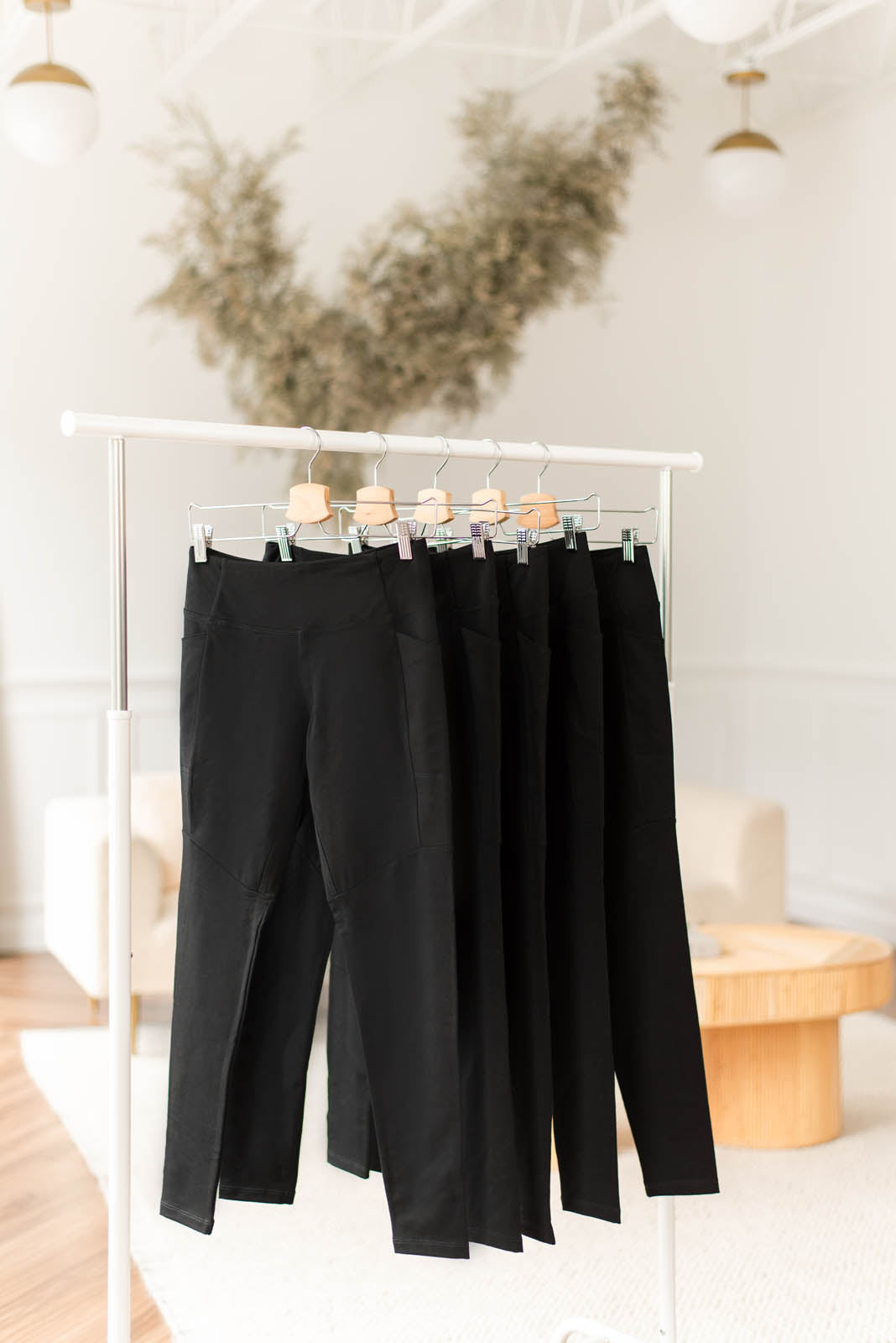 Our Essentials
Clothing that empowers you to live each day with confidence
Intentionally crafted to be comfortable and stylish
Innovative and adaptable designs, with a fit that feels customized
Naturally durable and easy care, without the need of synthetic blends
Certified to be sustainably and ethically made, free of harmful substances
Premium fabrics that are locally made when possible and responsibly made, always
Transform Your Wardrobe
we're on a mission to simplify your busy life with
timeless

, multi-functional clothing as

versatile

as you are.

We prove when it comes to clothes, you can have it all: enduring comfort, style and materials. And that's just the beginning. While trends and fast fashion exist to fill closets, our smartly designed clothing will help streamline yours. With us, less truly is more. Our transformative pieces can be worn multiple ways and endlessly combined for looks that feel fresh, original and all yours.

OUR STYLE GUIDE
we believe clothes can
free and empower you

.
wear us your way, every day.
As seen in
"One of the few apparel brands in Canada that is a B Corp, so certified for their social and environmental performance."
Best of all, Encircled is a Certified B. Corp company — proof that it puts planet and people before profits.