Item is in stock
ONLY A FEW LEFT
Item is out of stock
Item is unavailable
"... I was looking for work pants that were comfortable and THESE delivered."
- Lauren
Description

Got plans for work or play? Our Dressy Sweatpant is the ultimate go-to for any occasion. Whether you're crushing a ZOOM meeting from home or brunching with your squad, these pants are the perfect blend of comfort and style. You can rock them anywhere - we dare you to find somewhere you can't. So, dress them up or down and feel confidently stylish in these luxuriously soft sweatpants. 

Available in:

Buttery-soft and smooth MicroModal fabric.
Luxe, silky and soft Bamboo rib knit fabric.
Details
Fit
Fabric and Care
Ethically-made in Toronto, Canada
Encircled is a Certified B Corporation®
---
Free shipping on orders $225+
The Dressy Sweatpant
$157.00 USD
Regular price
About Encircled

Certified B Corporation

We prioritize people and the planet over profit. Being a Certified B Corporation, we are one of the few apparel brands to achieve this in Canada.

Woman-owned

Proudly a woman-owned and operated business, based in Toronto, Canada. Encircled was created by Kristi Soomer in 2012.

Responsibly Made in Canada

We work with local production partners in Canada. Many of which are family owned for generations to create each Encircled garment.
Versatile Style
I'm in my 60's, 5'3" approx 125 lbs. I love wearing and styling my outfits with black pants but have larger thighs and most stretchy yet stylish pants are too tight in thigh or gape at waist. These pants would look good on any age group and every body type/proportion. I can't wait to dress em up, travel with them or nap in them ❤️
Worth the money
These are not cheap, but my god they are worth it. I could do yoga and then sleep in them. My physio asked if I needed to change just based on looking at them, and I did a high kick in response. I got them for work and my upcoming trip to Scotland, but often wear them around the house. Have washed several times but they still look great. They can crease easily, but once you wear them for a bit it all smooths out.
They do show dirt/cat hair the same as any other legging or sweatpant. They are so light and comfortable it's insane, but I do need to throw on an extra pair of pants overtop for the extra cold Canadian winter days as they aren't super warm. Definitely going to buy another colour at some point. I also love that they come in Long, as I'm 5'10 and they just hit my ankle bone. True to size, and I'm also well-endowed in the booty and hip department and they fit my curves perfectly without being too tight.
Comfy and stylish!
I purchased the Dressy Sweatpant in black several months ago. It has quickly become a favourite piece in my wardrobe as it provides comfort, style and flexibility. I love it so much that I recently purchased a second in green to go with the many black tops I seem to own. Sizing details: I am 5'5" tall, weigh 147 Lbs, wearing size medium pants and small tops. Cheers!
Literally the world's best pants
I can't recommend these pants enough. I have six pairs and where them every day. They are worth every penny. I have a pair from three years ago that haven't changed at all. They don't pill they don't fade they don't stretch out. They really really last.
BE A #COMFORTMAVEN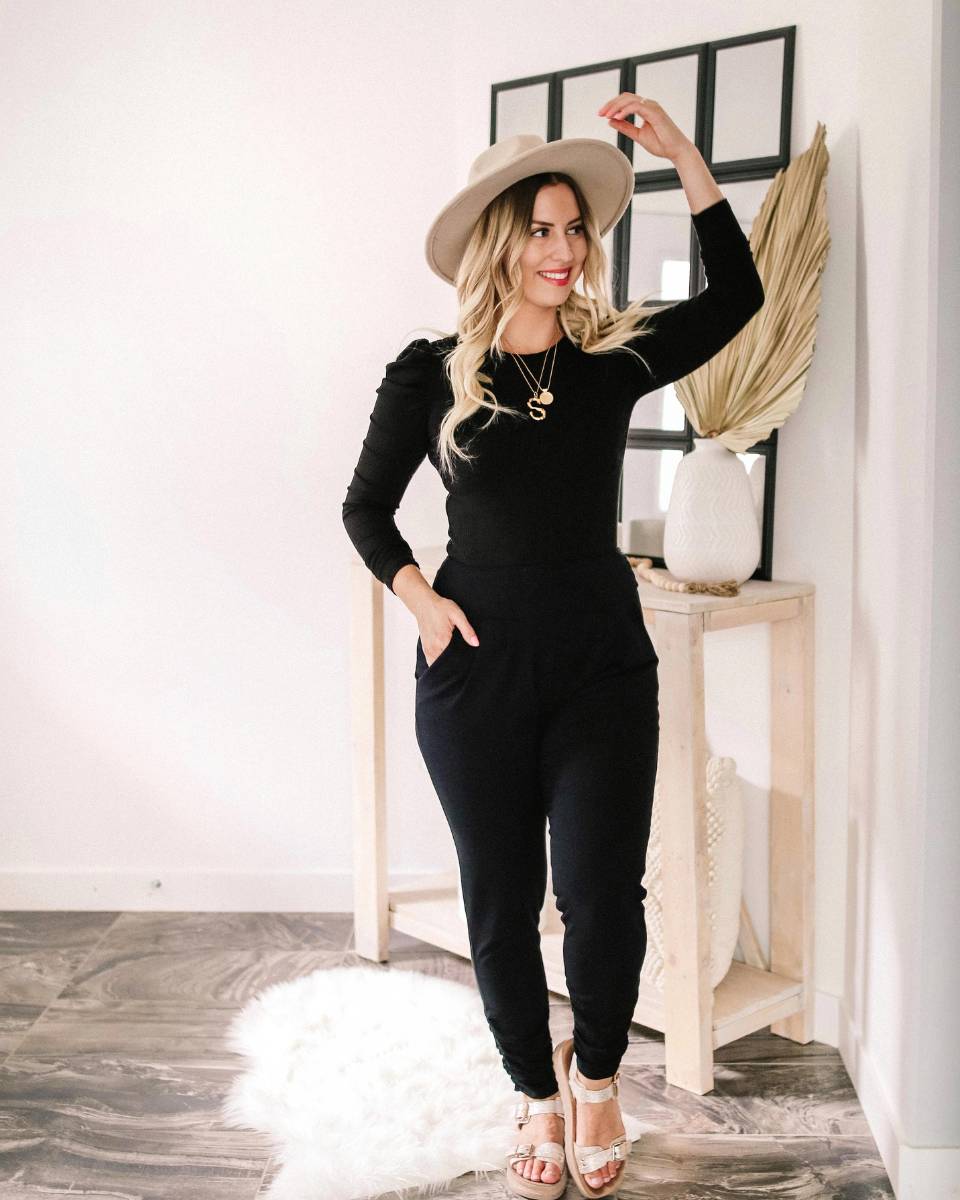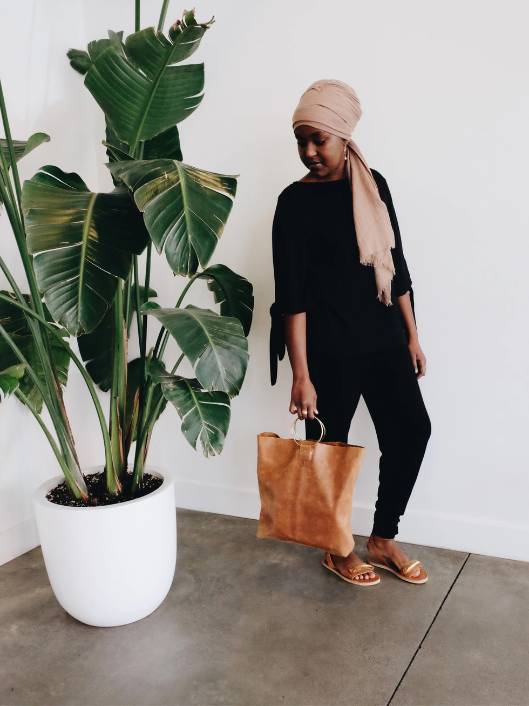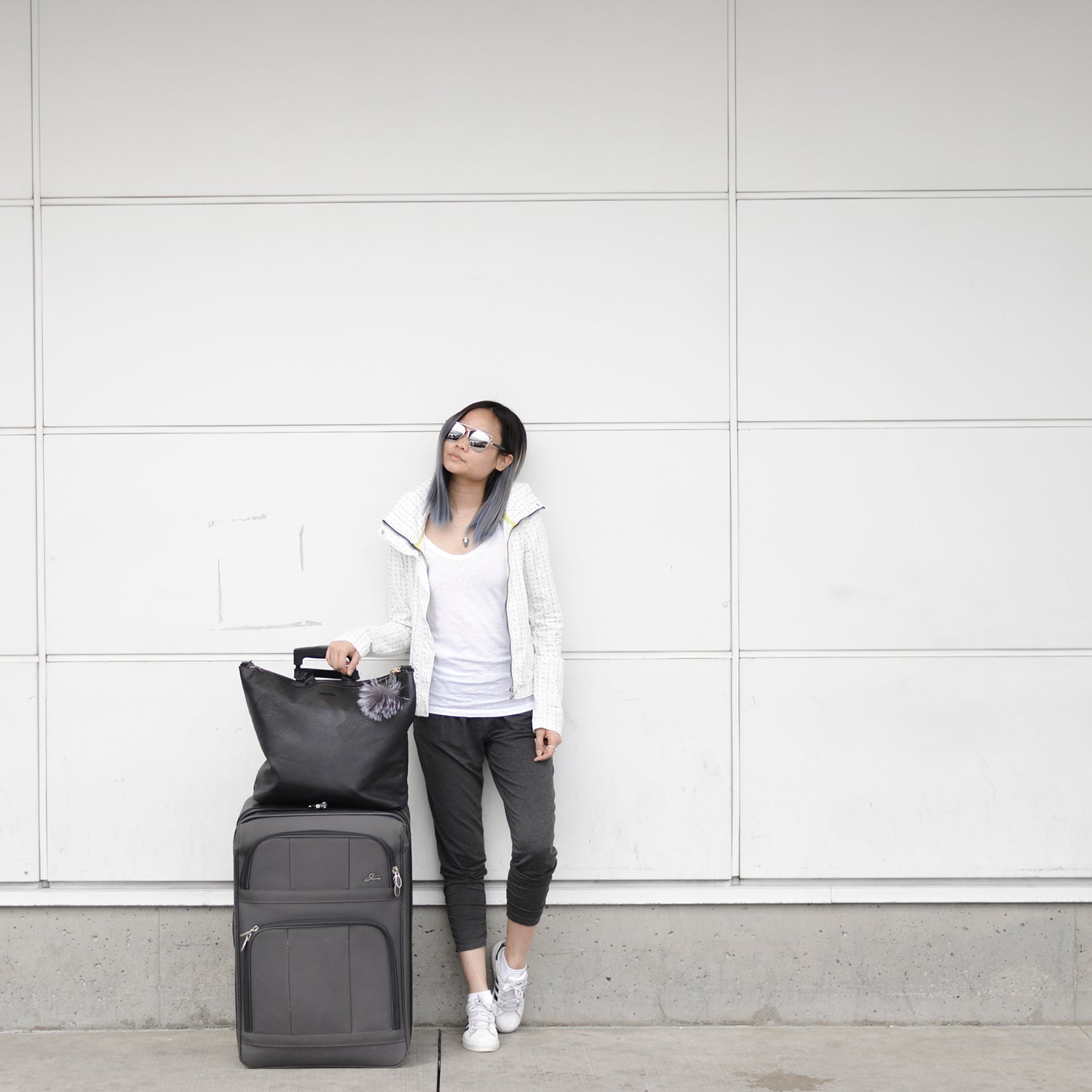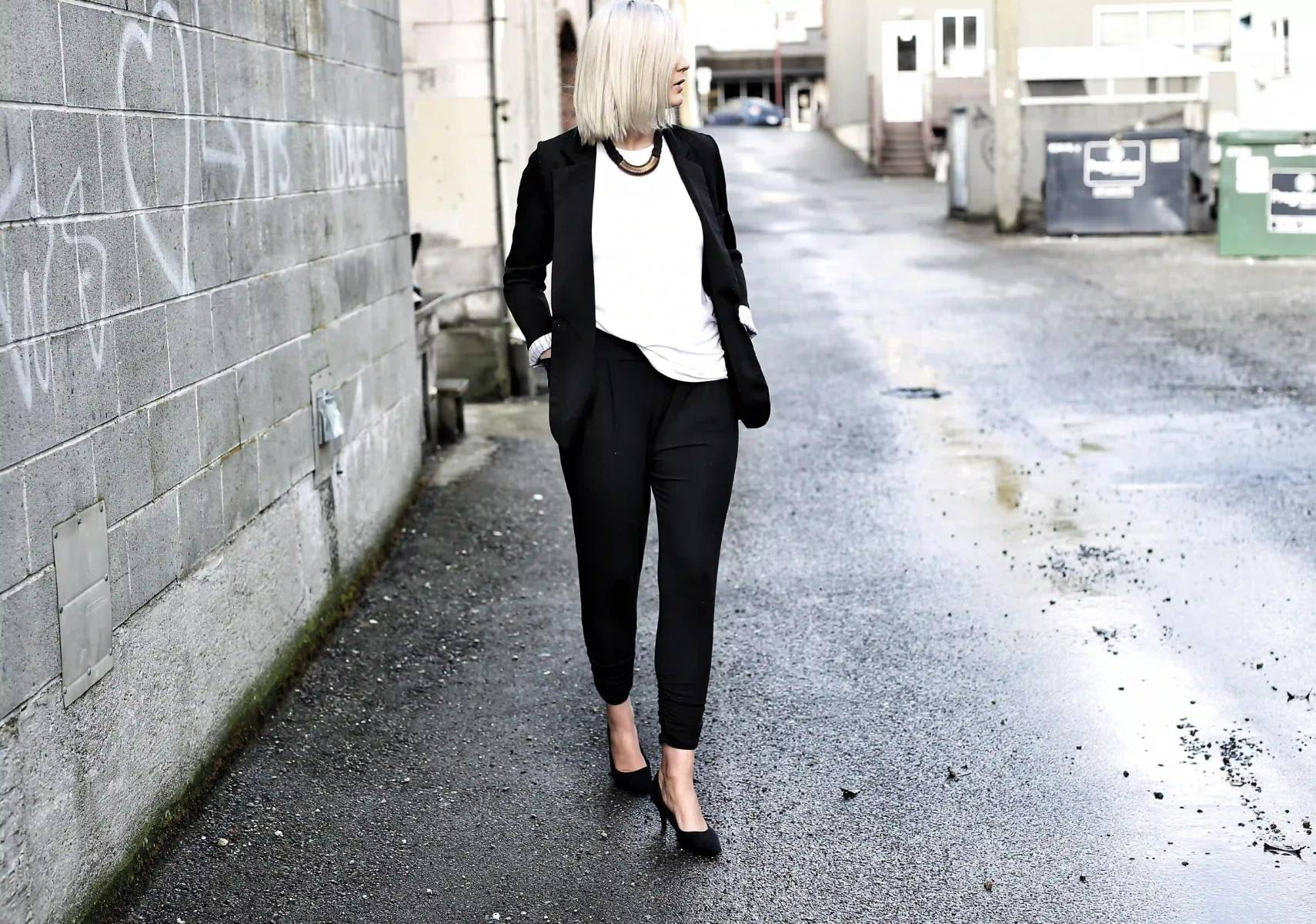 AS SEEN IN
I consistently rave about the fabric that Encircled uses for its products, and The Dressy Sweats are no exception. Honestly…I could LIVE in these pants...
Jessica / TheBelleVoyage.com
The fabric is so soft. I'm not exaggerating when I say that these are the most comfortable pants I've ever worn.
Nicole / OhMother.ca
These really are the perfect go-to pants to dress up or down.
Jill / SuttonAndGrove.com
the story of


the dressy sweatpant

Why this pant will surely become the most worn pant in your capsule wardrobe.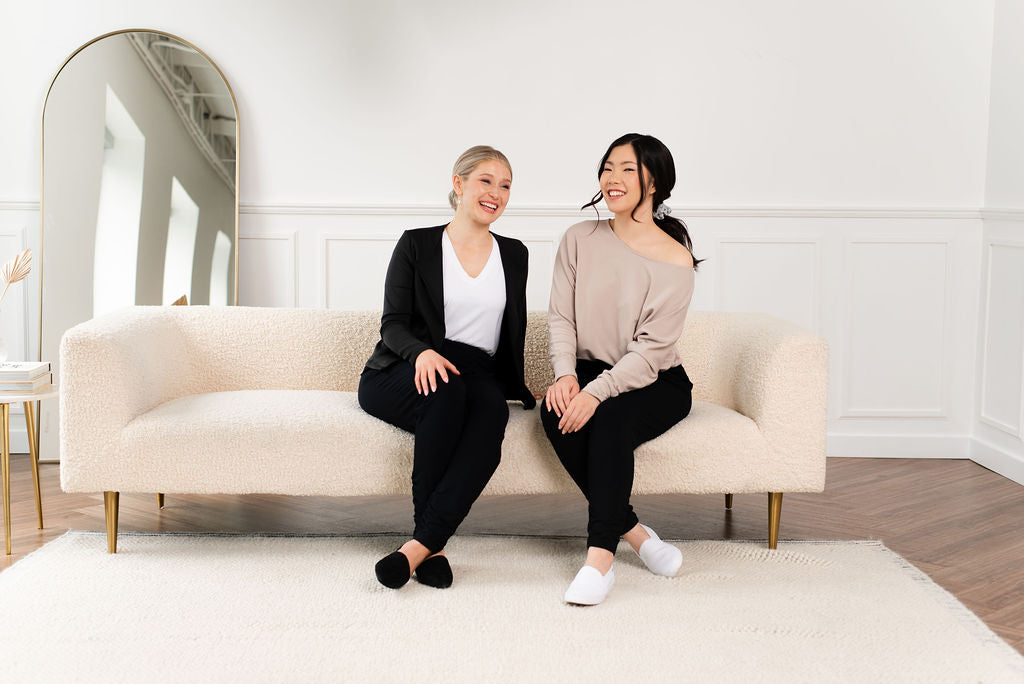 Dressy Sweatpant FAQs
What size should I choose?

We recommend sticking with your typical pant size, and if in doubt, check out size chart. If you're in between sizes, size up!
What's the difference between the Bamboo and MicroModal fabric?

The MicroModal fabric is knit and dyed locally in Toronto. It's super-soft, and has a slight sheen to it. It's a mid-weight, smooth fabric.

The Bamboo fabric is also soft, but has a ribbed texture to it and more sheen. It's also a mid-weight fabric. Both are certified to free of harmful chemicals and are fade-resistant and sustainably-sourced.
Why are the Dressy Sweatpants so expensive?

At Encircled, we believe in investing in quality over quantity in your wardrobe. The Dressy Sweatpants are just that. The fabric is sustainably-sourced, and locally knit and dyed. This is a super premium fabric - not your average 'sweatpant' fabric. The pants are also incredibly well-made by fairly paid sewing teams who are local to Encircled. We're proudly 100% made in Toronto, Canada. Lastly, the Dressy Sweatpants are timeless so they'll last for years to come in your capsule wardrobe. If you think of your average cost per wear, the Dressy Sweatpants will seem like a steal.
I can't wear pleats! Help!

Pleats can be scary or they can be flattering. On our Dressy Sweatpants they're actually the latter. They're part of the design that makes them look less like sweatpants, and they drape loosely so they don't add bulk. Trust us on this one, you can wear pleats. Anyone can.
How long are these pants?

The regular inseam is 28.5". Petite inseam is 26". We're launching a Tall version in Fall 2022. Sign up to emails to be notified when its live.
How do I care for my Dressy Sweatpants?

We recommend gentle wash, cold water with an eco-friendly, mild and fragrance-free detergent. Hang to dry. If they wrinkle, we recommend using a steamer, or an iron between a towel.
Do you offer returns?

Yes, we have 30-day returns on non-final sale merchandise. Details here.
Bamboo Rib Knit
Soft, textured, glam.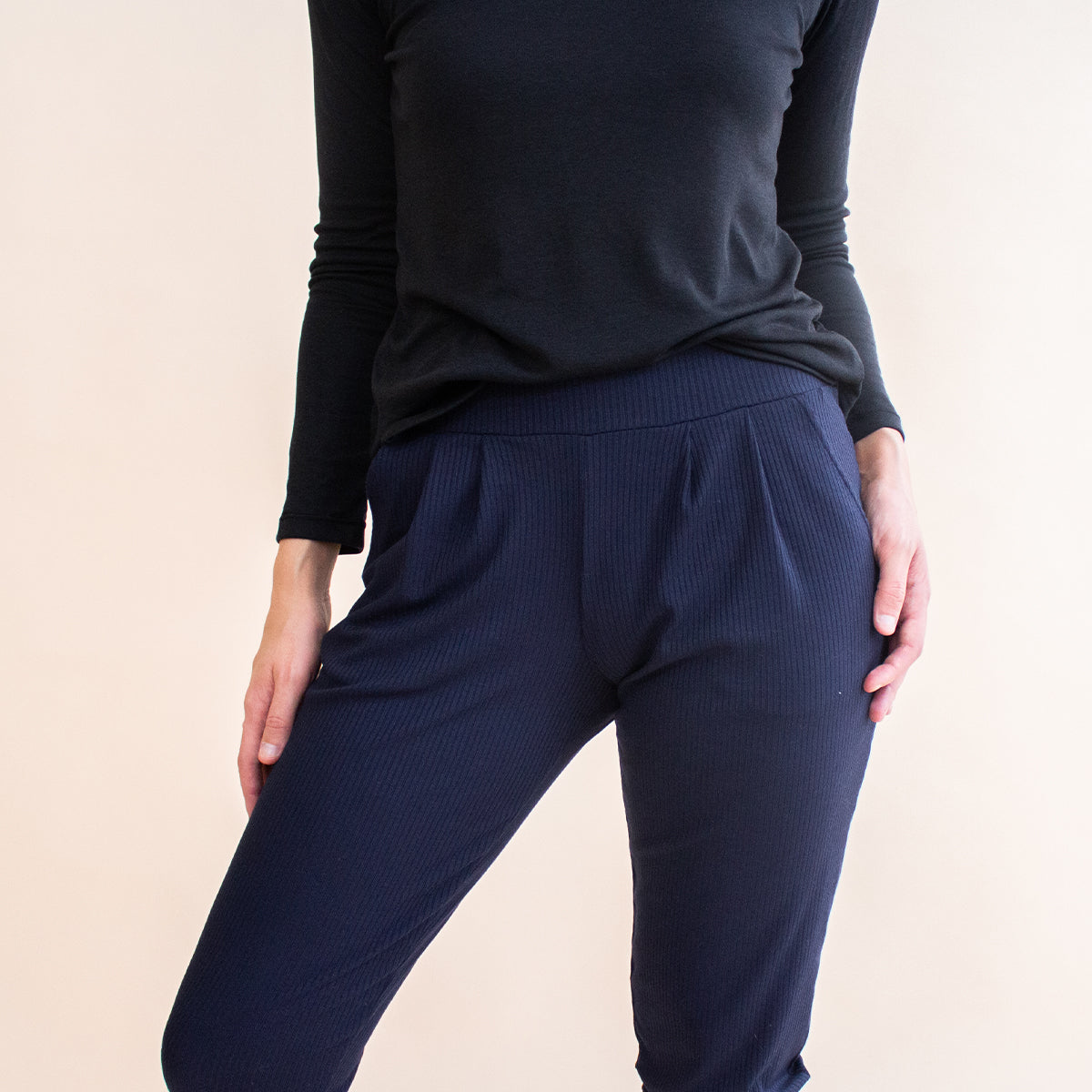 MicroModal Blend
Luxurious, locally-knit, buttery smooth.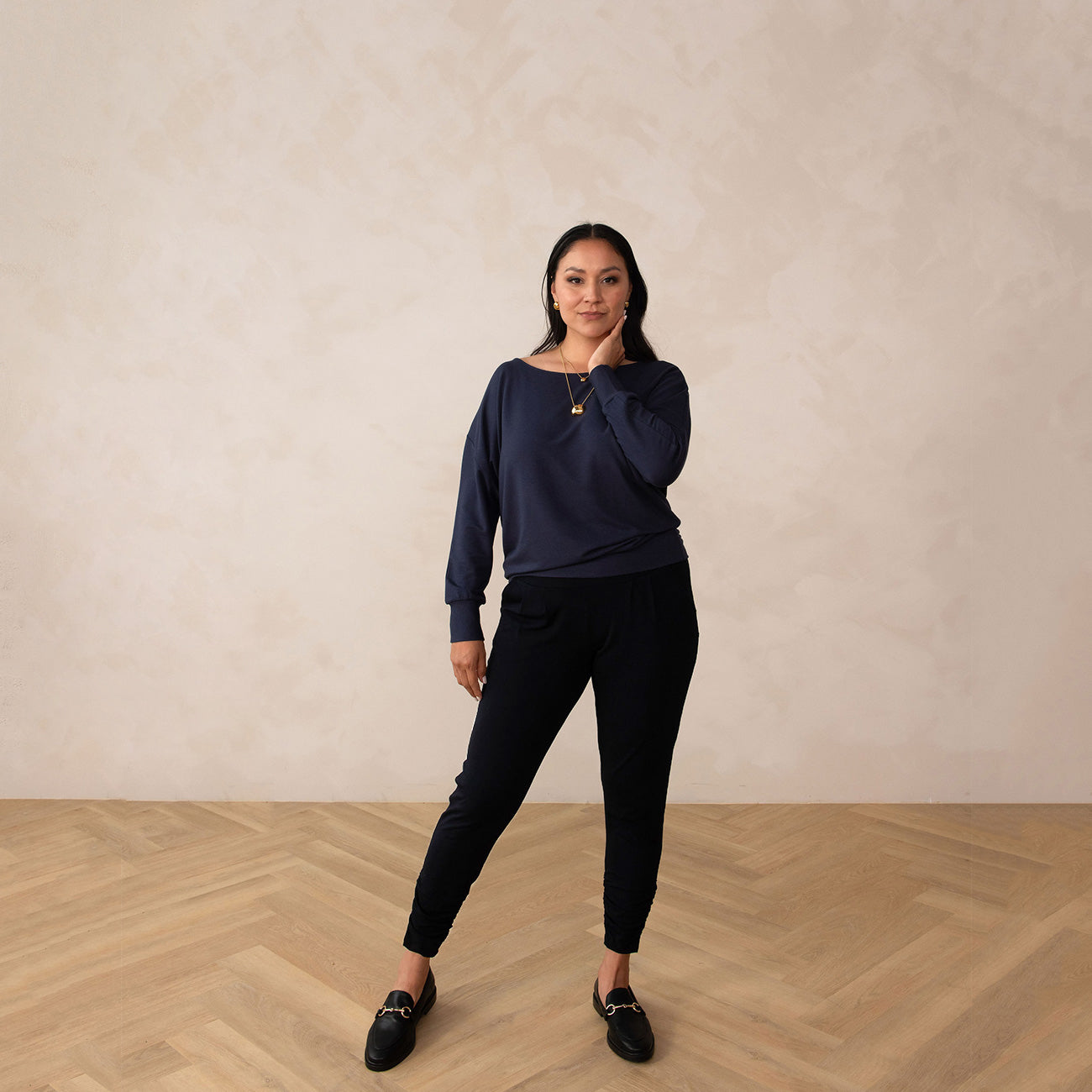 make it a
dressy

sweatsuit

Pair with the Dressy Sweatshirt to make the dressiest sweatsuit you'll ever own.

Plus you'll save 10% off.
say goodbye to
hard pants

, forever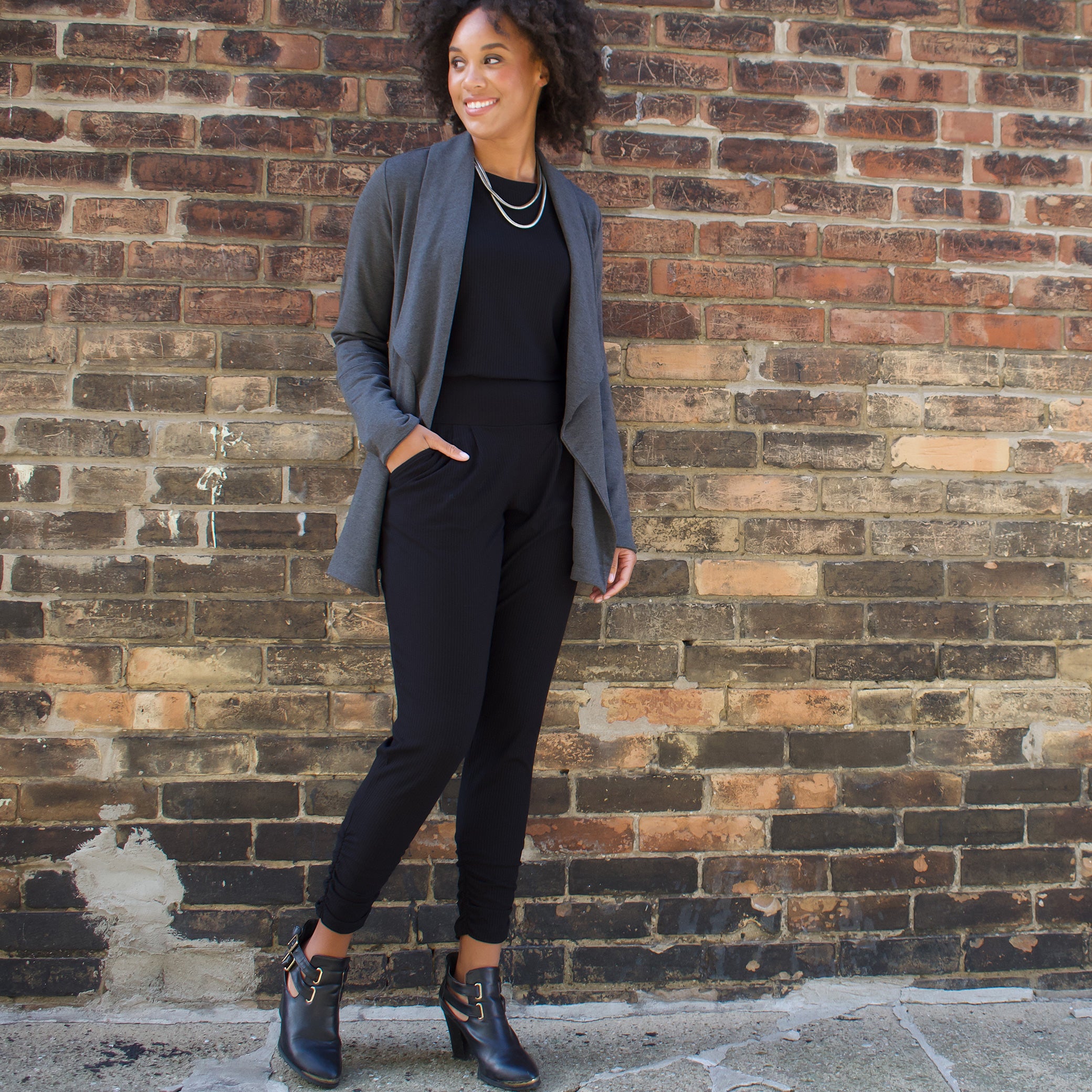 see the
dressy sweatpants

on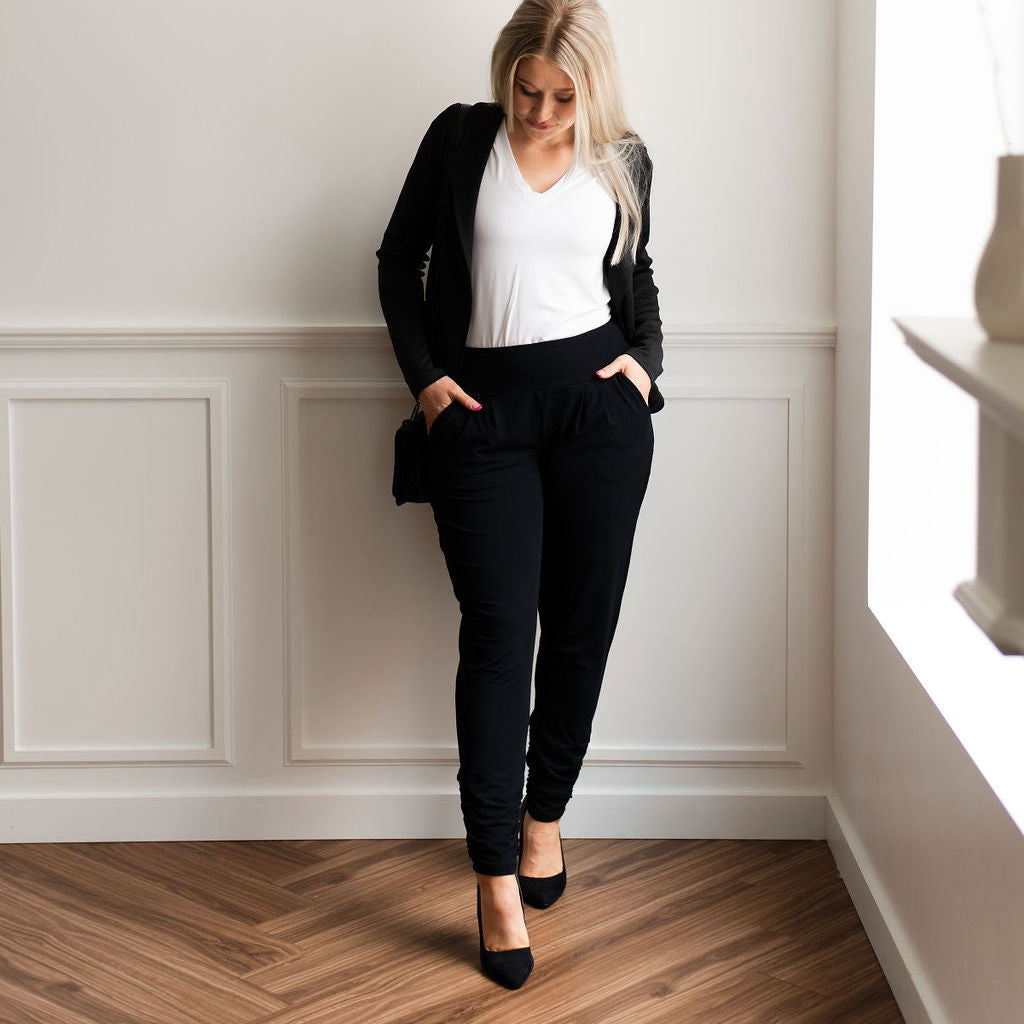 High-quality, made-locally
Effortless style, quality, comfort, ethics and (genuine) sustainability — we compromise nothing, so you don't have to either. Proudly one of a handful of Women-owned certified B Corporations that's made in Canada.
Easy, Stress-Free Returns
Not that you'll be returning these. Trust us. But if you do happen to get the wrong size, it's no biggie. Send back your items within 30 days to receive an exchange or refund, hassle free.
Confused about fit?
Message us at contact@encircled.ca and we will be happy to help you