FEEL GOOD FABRICS
Transparency in our supply chain is essential to us and informs fabric choice, wear and life cycle.
Natural comfort and sustainability weave through every single piece. No more squinting at labels to check for sneaky blends or harmful dry cleaning symbols.

Encircled fabrics are always wonderfully soft, fade resistant and drape beautifully on all body types. The processes to make them are sustainable and use low-impact dyes, positively impacting both the planet and your health, and they're sewn locally to lighten our carbon footprint. Our ethical, holistic approach through their entire cycle creates fabrics that feel good, in every sense.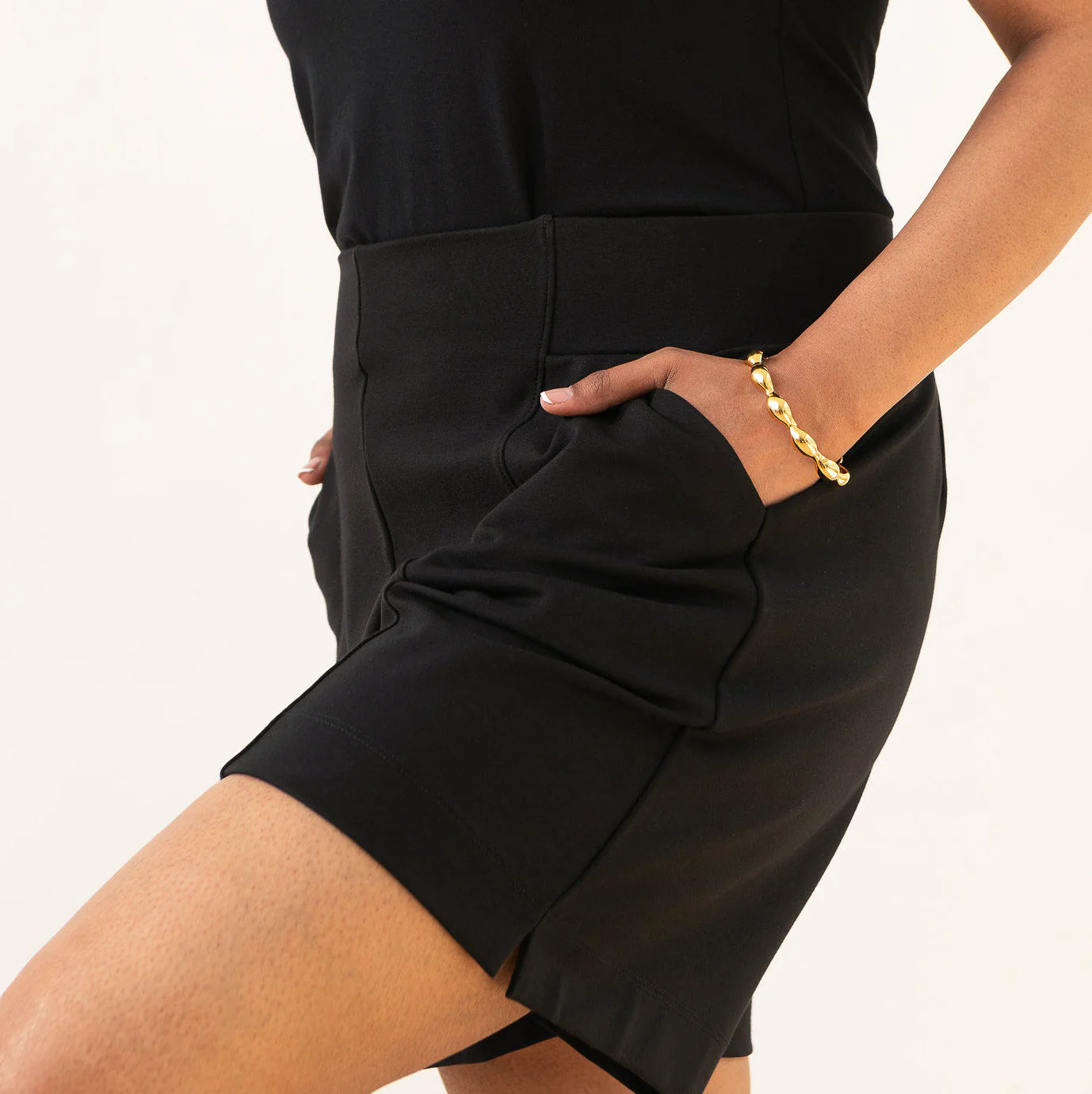 Ponte
Made to last, our premium Ponte uses Lenzing™ ECOVERO™ certified Viscose from renewable sources, unlike the typical petroleum-based Ponte fabrics out there. This fabric goes from work to weekend with ease. No dry cleaning required. More structured than our other fabrics, but with 4-way stretch.
Modal®
Made from sustainably sourced beech wood pulp, Modal® is sometimes called the softest fabric in the world. Incredibly plush, lightweight and breathable, this wonderfully durable fabric feels buttery smooth and silky.
Tencel™ Lyocell
Created from wood pulp, Tencel™ Lyocell yarn is made through a closed-loop process that ensures almost no harmful wastewater, chemicals or by-products re-enter the ecosystem. This naturally soft fabric keeps the planet clean and you pleasantly cool and comfortable.
Rayon From Bamboo
Derived from the pulp of bamboo plants, a pesticide-free crop that quickly regrows, this fabric is super durable, luxuriously soft and 100% biodegradable. Its thermo-regulating properties will keep you cool in summer, warm in winter and supremely comfortable year round.
Organic Cotton
Our non-GMO cotton is grown pesticide-free, using much less water than conventional cotton, and is processed without harmful chemicals or production methods. Beautifully smooth and breathable, this is fabric to feel good in and about.
Linen
Naturally eco-friendly linen is made from flax, a hardy plant that needs little water to thrive and, as a fabric, is recyclable and quickly biodegrades. Timeless and super durable, linen is a classic wardrobe staple with a luxurious hand feel that gets softer and more supple with each wash.
Merino Wool
Our merino wool is ethically-sourced from Australia and is cruelty-free. This luxurious fabric is comfortable, breathable, naturally anti-odour and easy to wear. Dyes are hypo-allergenic and OEKO-TEX® Standard 100 certified to be free of harmful chemicals.