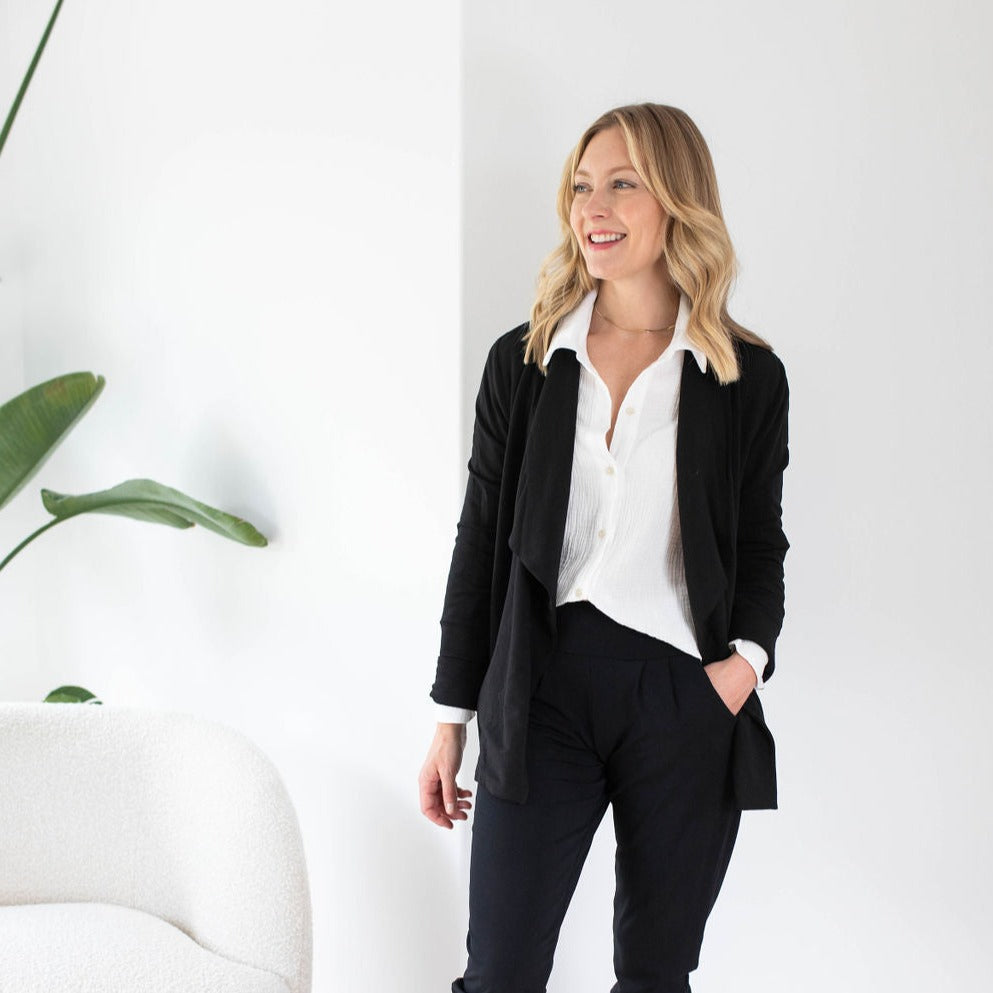 Item is in stock
ONLY A FEW LEFT
Item is out of stock
Item is unavailable
ON PRE ORDER: Ships approx. Dec 8th
ON PRE ORDER: Ships approx. Dec 8th
ON PRE ORDER: Ships approx. Dec 8th
ON PRE ORDER: Ships approx. Dec 8th
ON PRE ORDER: Ships approx. Dec 8th
ON PRE ORDER: Ships approx. Dec 8th
I like this blazer so much I now have two.
"...It looks polished enough for work but at the same time is so comfortable I can wear it for anything."
- Inken
Free shipping on orders $225+
Description

Comfy like a sweatshirt, chic like a blazer. Made from a deliciously soft blend of bamboo and merino wool french terry, The Unblazer can jazz up any look in a matter of seconds. Oh, and it's got pockets and a front closure. Machine-washable, and timelessly elegant. What more could you need?
Details
Fit
Fabric and Care
Ethically-made in Toronto
Encircled is a certified B Corporation®
---
COMPLETE THE LOOK
Continue to build your capsule wardrobe
About Encircled

Certified B Corporation

We prioritize people and the planet over profit. Being a Certified B Corporation, we are one of the few apparel brands to achieve this in Canada.

Woman-owned

Proudly a woman-owned and operated business, based in Toronto, Canada. Encircled was created by Kristi Soomer in 2012.

Responsibly Made in Canada

We work with local production partners in Canada. Many of which are family owned for generations to create each Encircled garment.
Most comfortable piece of clothing ever!!
This is, hands down, the most comfortable piece of office clothing I wear. Coming back to buy it in any color available.
I love it! I have in 3 colours!
I absolutely love the fit of the unblazer, I have it in 3 colours so I can rotate as needed! It's comfortable, warm and I can dress it up for office wear.
Modern, quality, versatile…epic fabric!
I love the draping fit of this classic piece and the sturdy weight of the fabric.
Love!
Just came back from NYC and the Unblazer was AMAZING in every way. It is cozy, warm, comfortable, can look dressy or sporty, has zippered pockets and does not wrinkle! I wore it everywhere and felt good in every situation from sitting in the airport, to the art gallery, to a dinner out, and walking, walking and walking. Whether you are travelling or relaxing at home the Unblazer is a must have for a minimalist wardrobe.
Worth the investment!
I had my eye on this piece for a while, but I was hesitant due to the cost and some of the reviews stating that it runs large. I'm an XS usually, so I wasn't able to size down. With going back into the office setting for work, I finally decided to give it a try and I'm glad that I did! This is a gorgeous investment piece! It looks very stylish and sharp, but it is so comfortable. The fabric has a nice weight to it, it's soft and cozy, and I love the way that it drapes. The attention to detail is clear-- it's obviously a high quality piece that I'll be able to enjoy for years to come. I love the zippered pockets and the button that allows it to be worn closed.
I'm 5'6", 125lbs, usually an XS, and I ordered an XS. The fit is good, although I do wish that the sleeves were more tapered at the bottom (they are a bit baggy). However, the sleeves fold up nicely, and I think that's how I'll prefer to wear it anyway. I ordered the heathered navy color and I love it so much!
the
unblazer
Part Boyfriend Blazer, part sweatshirt, part cardigan. All comfort.
BE A #COMFORTMAVEN
AS SEEN IN
I consistently rave about the fabric that Encircled uses for its products, and The Dressy Sweats are no exception. Honestly…I could LIVE in these pants...
Jessica / TheBelleVoyage.com
The fabric is so soft. I'm not exaggerating when I say that these are the most comfortable pants I've ever worn.
Nicole / OhMother.ca
These really are the perfect go-to pants to dress up or down.
Jill / SuttonAndGrove.com
The Unblazer FAQs
What size should I choose?

We recommend sticking with your typical pant size, and if in doubt, check out size chart. If you're in between sizes or prefer a more fitted look, size down.
What does the fabric feel like?

The Bamboo Merino Wool French Terry blend fabric is soft but still structured. French Terry means there's a looped back to the fabric, so it feels somewhat like your favourite pair of sweatpants!

It's a mid-weight fabric. It's also are certified to free of harmful chemicals through OEKO-TEX 100 Standard and are fade-resistant and sustainably-sourced.
Why is The Unblazer so expensive?

At Encircled, we believe in investing in quality over quantity in your wardrobe. The Unblazer is just that. The fabric is sustainably-sourced, and made from premium materials. The Unblazer is also incredibly well-made by fairly paid sewing teams who are local to Encircled and features locally-sourced buttons, notions and zippers. We're proudly 100% made in Toronto, Canada. Lastly, the Unblazer is timeless so they'll last for years to come in your capsule wardrobe. If you think of your average cost per wear, the Unblazer will seem like a steal.
How long is The Unblazer

The Unblazer measures in the back length from 26.5" - 29.5" long depending on the size.
How do I care for my Unblazer

Unlike most traditional blazers, the Unblazer can go in the wash! We recommend gentle wash, cold water with an eco-friendly, mild and fragrance-free detergent. Hang to dry. If it wrinkles, we recommend using a steamer, or an iron between a towel. Do not put in the dryer.
Do you offer returns?

Yes, we have 30-day returns on non-final sale merchandise. Details here.
bamboo merino wool french terry
Soft, breathable, luxurious

no one needs to know that your blazer is this comfortable
high-quality, made-locally
Effortless style, quality, comfort, ethics and (genuine) sustainability — we compromise nothing, so you don't have to either. Proudly one of a handful of Women-owned certified B Corporations that's made in Canada.
easy, stress-free returns
Not that you'll be returning these. Trust us. But if you do happen to get the wrong size, it's no biggie. Send back your items within 30 days to receive an exchange or refund, hassle free.
confused about fit?
Message us at contact@encircled.ca and we will be happy to help you